Space Available
Will build to suit. Entire floor being redeveloped.
Magnificent views
Original brick walls
12-foot ceiling height
Call for competitive price
Ground floor with private entrance.
6 private offices plus expansive open area to accommodate a half dozen workstations and private toilets.
Authentic 19th century craftsmanship - complete with floor to ceiling wood paneling & walnut hardwood floors.
$14.75/sq ft + utilities
The best-known building in bucks county has 20,000 sq ft to lease
The Grundy Woolen Mill (built 1880) is now The Grundy Commons. It is BIG . . . over 300,000 sq. ft. and a 5-minute walk from the Bristol SEPTA station, next to the Delaware Canal. It is bordered by Lagoon Park with jogging trails and is less than 1 mile from I-95 and I-276 entrance.
The entire 6th floor has been modernized with care to faithfully preserve the 19th-century feel while infusing the space with 21st-century functionality. 360-degree views of a striking panorama are captivating and include the Delaware Canal, the Delaware River and Philadelphia (on a clear day!). The big attraction is the available space - 20,000 sq. ft - contiguous ... comprising the entire 6th floor. This space has 12' ceiling height and original red brick walls from floor to ceiling. This floor is serviced by 3 elevators - 2 passenger and 1 massive freight elevator (12,000 lb. capacity). AND the owner will build to suit!
Fred Baumgarten purchased the Grundy Mill in 1981 and redeveloped it as a multi-tenant commercial hub. This giant complex was rebranded as 'The Grundy Commons' and is now home to over 20 tenants with a broad range of businesses. The largest tenant is Advent Design Corporation, providing robotic assembly systems for manufacturers. In 1988 they moved into 2,500 sq. ft. and have grown to over 100,000 sq. ft. Just a handful of our unique tenants include:
Stepping Stone Dance Studio - A ballet studio
Witherspoon Boxing & Fitness - A boxing gym, fitness center, yoga studio
Delaware Riverkeeper Network - An environmental NGO dedicated to protecting and improving the Delaware River Watershed.
Dad's Hat - A distiller of awesome Pennsylvania Rye whiskey
Grundy Commons has earned and enjoys over a 95% tenant retention ratio over the past 35 years. A century ago, this giant complex employed about 1,000 skilled workers who manufactured some of the finest worsted woolen fabrics in the world. Today, the clocktower that was built in 1912 on top of the 7-story building is the unofficial logo of Bucks County and makes Grundy Commons a visible landmark for miles in every direction. The renovation of this unique complex of buildings is almost complete. The 20,000 sq ft on the 6th floor is the last available leasing opportunity.
The Grundy Commons features:
Great location - short walk to the train station
Parking on-site
Access to I-95 & I-296
Panoramic views from the 6th floor
An authentic 19th-century charm featuring original wood floors and red brick walls.
High ceiling height - 12 feet
Superior management - on-site owner manager
COMPETITIVE PRICING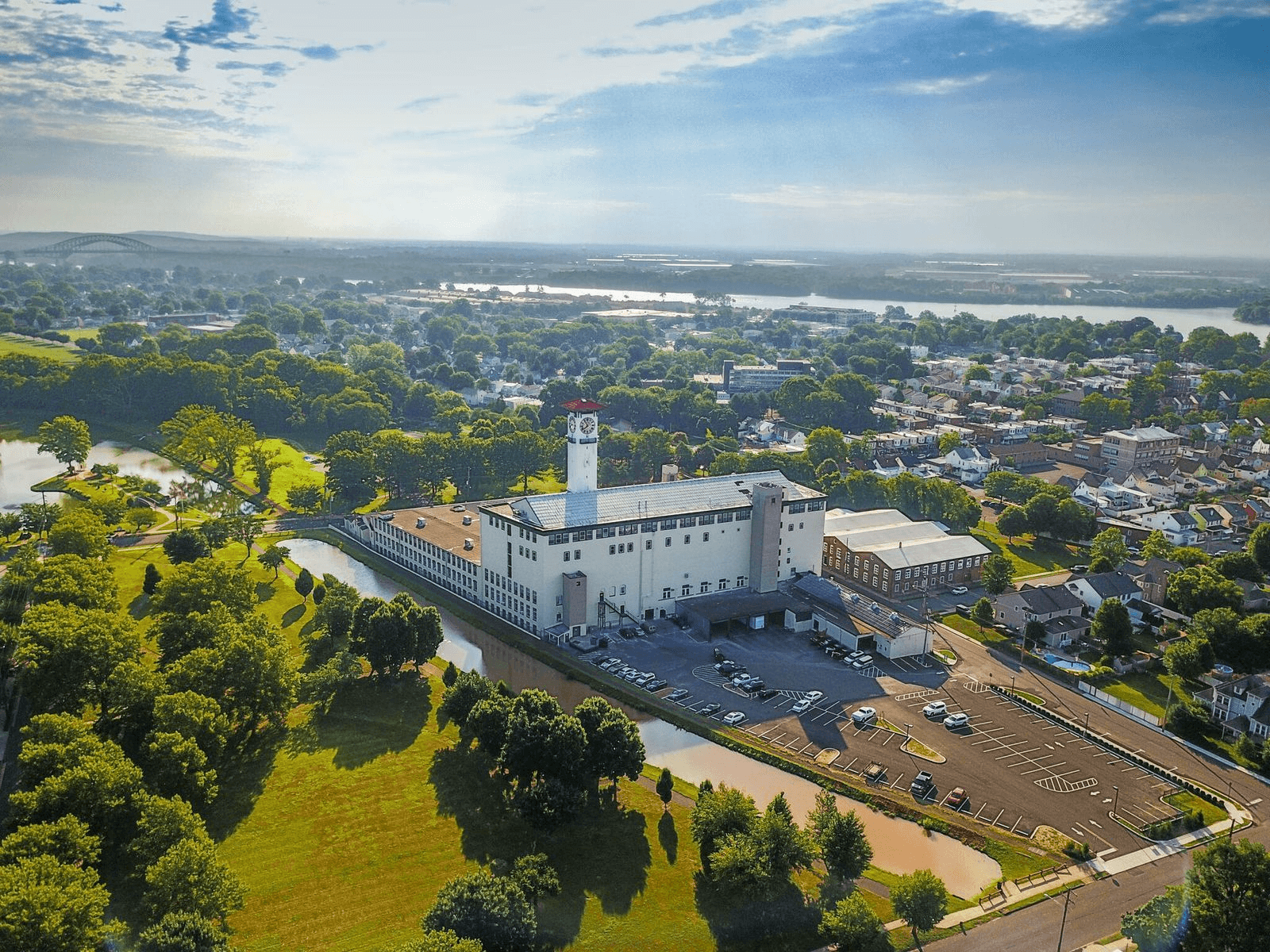 For information about leasing opportunities at the Grundy Commons, email FredB@GrundyCommons.com or fill out the form below.